A topic that most owners of a classic car have to face every year is the winterization of their vehicle. Here, many questions often arise, such as: What is the best way to store my vehicle? What should I pay attention to before and during the winter? What tips & tricks are there? And are there perhaps even a few little helpers that can support me at the end of the season? We have put together a small guide for you on this topic – with a few products that you could fall back on at the end of the season and the winterization of your vehicle.
Flexigel® Tyre Care tire protectors: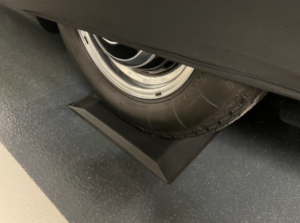 Flexigel® Tyre Care tire protectors: Tire protectors keep your vehicle ready to drive at all times. Even after a short period of standing, the driving pleasure can be spoiled by an imbalance in the tires. The use of tire protectors made of Flexigel® can easily prevent just that, as they reduce flat spots on the tires. The tires are relieved by an even distribution of the vehicle weight, as the tire protector provides an ideal contact surface thanks to the special Flexigel® filling, which adapts perfectly to the shape of the tire. The tire protectors are also ideal for classic cars. When you prepare your vehicle for winterization: Simply and quite conveniently place in front of the tire, drive on it, ready!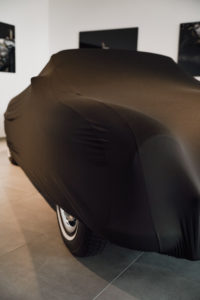 Car Cover: Mostly it cannot be avoided and dust and dirt can be found in many underground garages. But it is precisely against this that the paintwork of your classic car should be particularly protected. That's why we recommend the use of a Car Cover: a softly lined and breathable protective cover for indoor use. This high-quality car cover, which is gently soft-flannelled on the inside, protects your automobile like a second skin from garage dust and unwelcome scratches. It is made of high quality polyester fabric with 160 g/m² and highly elastic stretch properties. The breathable fabric prevents the formation of condensation. Sturdy elastic bands at the front and back ensure a secure fit. A wonderful all-rounder and protection for your car.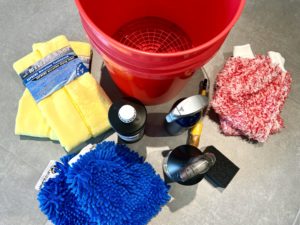 Car wash set: Before you send your classic car into hibernation and put on a car cover, it's important that your vehicle is really clean. And here, too, we've put some thought into it and put together a complete car wash set with practical wash buckets – for easy cleaning and care. According to our proven 2-bucket principle with integrated dirt protection at the bottom. Here you will find everything you need for an all-round successful car wash.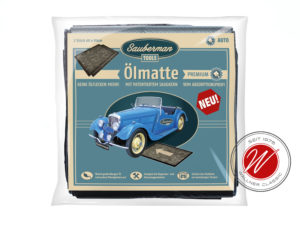 Oil mats:With a longer standing time and especially with our old darlings, it leaks from time to time in some places and it can quickly happen that oil leaks out. The result is stubborn stains on the floor. So that exactly this does not happen during the winter sleep of your vehicle, oil mats can be put under the car. This way, not only your vehicle is very well prepared, but also the floor and the environment remain clean.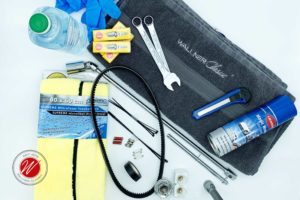 Basic equipment set Mercedes-Benz 190 SL: After the season is before the season. That's why you should be prepared for the first days of spring as soon as you want to wake your vehicle from hibernation. Especially before longer trips with the Mercedes-Benz 190 SL, the question likes to arise: "What should I have everything with me?" We have the solution here with this set we have put together. So you can help yourself a little bit in case of emergency or even helpers who are technically knowledgeable are always happy about the one or other part or aid.
Of course, you will find all articles in the online store on our homepage at www.wallnerclassic.de/en/store/. We hope you enjoy browsing and wish you a few more beautiful, sunny classic car days before the end of the season!